"SPECIAL LINKS!"
Please scroll down for "Personal History"

---

OLD BLIGHTY! Trip to England 2003.


The Bill Irwin Music Site"Music for organ and piano arranged by Bill Irwin, internationally known organist, pianist, arranger and educator."


"IAN HUNTER's Pubs-Taverns-Inns Essex, England" - See Grandfather POOLE's - THE BELL INN, BROXTED (Scroll down to 'Enter Essex Pubs' then click on 'Ardleigh-Epping')


Ken Rose's "OLD ESSEX, ENGLISH VILLAGE SCHOOLS"- a lovely collection! Don't miss it!


"CAMULOS" - featuring pubs, ghost tours, history, genealogy, and other topics of interest--Colchester, Essex, England


"Tour the desert in "Digital Desert-Lucerne Valley"


A Little History
Below is a little of my history:
U.S. COAST GUARD SPARS - 1945-1946
Married: 1945 - Herb Carpenter
Children: Gregory Carpenter , Susan Carpenter, four grandchildren, and six great-grandchildren.
Studied: Otis Art Institute, Los Angeles, 1950-53. Among instructors who are remembered most..Joseph Mugnaini, Leanord Herbert, James Cooper Wright, David Green, Richard Flu.
Member: Nat'l Watercolor Society, (Recording Secretary) Los Angeles Art Assn., Whittier Art Club, Lakewood Art Assn., Women Painters of the West, Otis Alumni, etc.
Exhibited: Long Beach Museum of Art, CA.; Kramer Gallery, La Cienega Blvd. Los Angeles; Pacific Coast Club, Long Beach, CA.; Marble Arch Gallery-Gallery Petite- London; Paidea Gallery, La Cienega, Los Angeles; Las Vegas; Nev. Laguna Beach, CA.; Studio 5,; Catalina,; Palos Verdes, CA.,;Downey Museum of Art, Downey, CA.; Traveling Art Shows by the National Water-Color Society, etc.
Numerous "one-woman" shows. Over one hundred awards. Represented in more than two hundred private and public collections.
From the mid-sixties to mid-seventies I changed mediums and devoted most all of my time to pottery. I ended up with four kilns! Two gas (butane) and two electric. The electric kilns were mostly used for bisque-firing, and experimenting with "found" desert clays, and glazes. My 16-CU FT gas kiln was for high-fire glaze firing.
The last ten to fifteen years I have been delving into music, computers and genealogy. It is just recently that I am devoting most of the day to painting again. I love to do portraits, still life, non-objective abstracts from music, and of course the continuously changing mood of the desert is always an inspiration for a painting. I have had a show of 27 paintings this year in June (2004) at the Victor Valley Museum, Victorville, CA. I have also completed a commissioned portrait of Janice Horst for the Janice Horst Lucerne Valley. The UNVEILING was in Oct.
When I moved out here to the high-desert in 1971 from Lakewood, California, it was the beginning of a new life-style. I stopped exhibiting my paintings after one very special award-winning painting-"Eternal City" vanished from an exhibition here in the "High Desert". (see bottom of this page) I resigned from all art organizations, _ mainly because of the driving distance involved_ and began enjoying life here in beautiful Lucerne Valley with my husband of 65 years, our 2 cats and two dogs.. :-)
Here is my loaded kiln almost ready to be fired to cone 10 (a little over 2300-F- degrees-1300- C.)

Herb & Evelyn.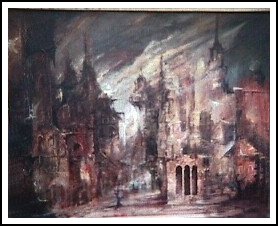 "ETERNAL CITY"
(Reward for information on this missing painting!)